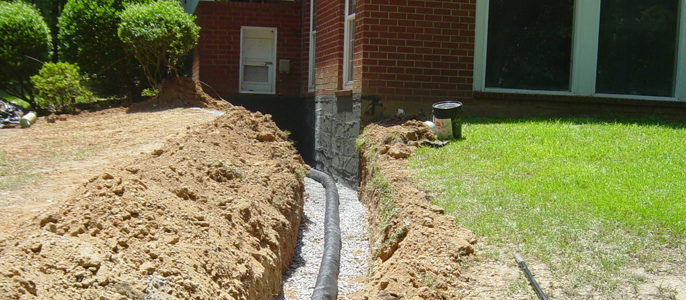 Water and moisture around or beneath a structure's foundation can lead to structural problems.  Without proper drainage solutions, water can travel through the soil beneath a structure's foundation or through a foundation wall into a crawlspace or basement and soften the soil.  If water and moisture problems are not addressed by the installation of a French Drain and a waterproofing barrier, what begins as a small problem can rapidly become a large problem.
Waterproofing and French drains are excellent drainage solutions when used in conjunction with each other to prevent water from penetrating a structure's foundation wall and to divert water away from the structure.  Top Level Foundation Solutions are certified installers of the Hydro Stop Barrier Guard waterproofing system and recommend the Hydro Stop System as a drainage solution for water penetration problems.  The installation of waterproofing requires that the foundation wall or walls be excavated down to the structure's footer.  Once the exposed walls are cleaned and repaired, the Hydro Stop Barrier Guard system is installed from the footer to approximately 2-4 inches above grade.  The system consists of a base coat with imbedded fabric and a top coat of the Barrier Guard.
French Drains are the preferred drainage solution and are installed to route water away from the structures foundation.  Our French drains consist of 4 inch corrugated drain pipe, #57 gravel, silt cloth and soil that will allow water through and into the drain pipe.  Once the foundation is excavated, the 4 inch corrugated pipe is laid along the top of the footer and wrapped in silt cloth to prevent soil migration into the drain pipe.  The excavated drain is then filled with #57 gravel to within 12-16 inches of grade.  The gravel is covered with a layer of silt cloth with soil above to achieve final grade.